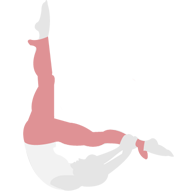 Pilates is a type of exercise in which you perform a series of controlled movements that flow into one another with precision.
As far as what muscles Pilates works, it's technically considered a total body workout.
In working the entire body, though, Pilates' movements are primarily designed to target your core muscles, including your:
Abdominal muscles
Hip muscles
Gluteal muscles
Lower and upper back muscles
Inner thigh muscles
The goal is to be in total control of your body as you move. That requires beginning from your central core muscles and using the stability these muscles provide to smoothly control your arms, legs and other extremities.
This is no easy feat, which is what makes Pilates a great way to build strength and stamina.
So what's the difference between Pilates and yoga?
"Yoga can be pretty slow and focuses a lot more on mobility and stretching, while Pilates really emphasizes building functional strength," says Wonesh. "I think of Pilates as a whole-body workout that encourages you to think about yourself as a person who moves and the best way to support those movements."
Because it focuses on promoting functional strength, the benefits of Pilates extend beyond your workout, improving the way you move in your everyday life.